(Dr Vodder Original Method of CDT)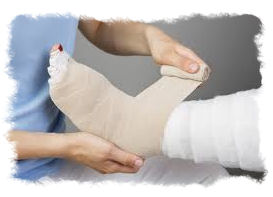 If you have been diagnosed as having Lymphoedema, your Lymphoedema Practitioner may suggest commencing a course of Complex Decongestive Therapy to help manage your symptoms.
Complex Decongestive Therapy or CDT is a treatment option which combines Manual Lymphatic Drainage (MLD) with Multi-Layer Lymphatic Bandaging (MLLB). It can also be known as Decongestive Lymphatic Therapy or DLT.
At Sanare we regularly combine Manual Lymph Drainage, Multi-Layer Lymphatic Bandaging and Deep Oscillation Therapy to provide the best individual therapy for our patients. MLLB can utilize many options in relation to the types of bandages that can be used. Traditionally, the use of MLLB consisted of the affected limb being cleansed with a specific cream or lotion and the application of a stockingette to cover the limb that is to be bandaged. When this is achieved, a padding or foam is carefully applied to the limb, with special attention to the wrist and elbow areas, where extra padding or cushioning may be added, to avoid abrasion. Short stretch bandages are then applied, with the correct pressure and formation, which is specific to each patient. Several layers of bandages are applied to the limb until the correct pressure and shape have been achieved. When arms or legs are being bandaged the fingers &  hand or toes & foot are also bandaged with a lighter web bandages, which again has a very specific application to ensure mobility, compression and comfort for the patient.
Traditionally, short stretch bandages have been used as the normal standard for MLLB, they are reusable and offer the possibility of patients to bandage at home. There is also the option of cohesive bandage systems. These systems offer the same level of compression as traditional short stretch bandages and generally less materials are used and the use of these systems  can reduce the number of bandaging treatments required, but cohesive bandage systems are more expensive and can only be used once. Speak to your therapist about the options and costs involved in MLLB, and they will be able to advise you on the type of bandaging available.